If your student group collects dues, makes money by selling goods or providing services, or loves to hold regular fundraising events, an AGENCY FUND is the perfect financial tool for you!
Five Advantages of Having an Agency Fund
1. It acts as an on-campus checking account for your organization.
Whether your group needs to pay an invoice, request a check or make purchases online, your Agency Fund is easy to access.
2. Avoid using an external bank account for your group finances.
Did you know that external bank accounts are not allowed? Here's why taking your group's money off campus can be a headache: paperwork, minimum deposits, fees, not to mention asking someone to provide a personal social security number. It's also a risky thing to do, possibly setting your organization up for misappropriation or mismanagement of your hard-earned funds.
3. Management of the fund is easily transferred when your organization leadership or advisor changes.
Ever heard of a group losing their money because an officer graduated and moved away without transitioning the bank account? It happens! On the other hand, putting your Agency Fund "under new management" is never a problem.
4. The balance in the account will "roll over" from year to year.
To put it another way, an Agency fund is your group's money. And it will always be there when you need it.
5. WFU does not charge a fee for providing this service.
Do we mean FREE? Oh yes we do.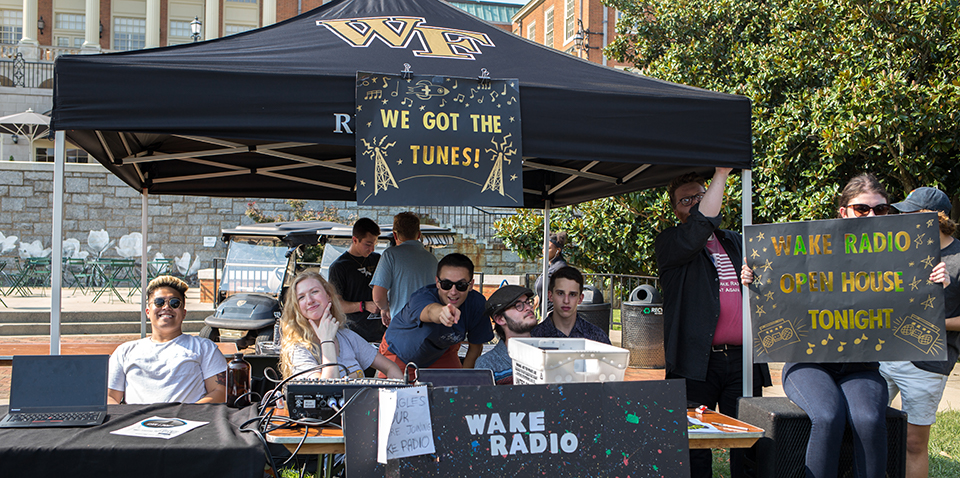 Photo Credit: Mitchell Loll
Agency Funds
are like
"campus checking accounts"
for student groups.
Deposited funds may be spent in a number of ways:
We have cash to deposit, now what?
Agency Fund deposits may be made at the Cashier's window:
Student Financial Services, 107 Reynolda Hall.
Learn more about making deposits
Requesting an Agency Fund
Designate a university employee to serve as the Authorized Representative (sponsor) of your fund.
This is usually your organization advisor. The responsibilities of this role are outlined in the WFU Agency Fund Administrative Policy.
Work with your sponsor to complete the Agency Fund Request Form and the Agency Fund Agreement.
Once completed, the original, signed forms should be sent to Financial Services using campus mail:

Mail completed forms to this address:

WFU Financial Services
University Corporate Center
Attn: Manager, General Accounting

A mailbag is available for student use in Reynolda 107

Once the Agency Fund has been approved and created, your advisor or other sponsor will receive an email with the fund number.
The fund number is a six-character number beginning with an "A".
What Next?
Once your fund is established, your group must make a cash or check deposit to the Fund at the Cashier's window in Reynolda Hall 107 before using the number to pay expenses.
Any time your group spends from the Agency Fund, your sponsor will receive a monthly report detailing the expenses.
---
For assistance with the request process, contact Financial Services at generalaccounting@

null

wfu.edu
---
SOME RELEVANT POLICIES
Amounts deposited to an Agency Fund are your organization's money. SBAC funding guidelines do not apply, but funds must be spent in accordance with your organization's charter.
By creating an Agency Fund for your group, WFU accepts responsibility as a financial custodian of your organization money. WFU accepts this responsibility only when the organization's activities are consistent with the mission and goals of the university.
The University safeguards your group's deposited amounts and provides oversight and reporting. While it's true WFU does not own these funds, it has assumed the responsibility for managing the funds properly. Always expect to use standard WFU payment procedures to spend from your Agency Fund.
It is important to remember that the relationship between WFU and your organization's Agency Fund is purely custodial. It is not permitted to use the WFU tax identification number or tax-exempt status when accepting or making payments.
Finally, please be aware that if your sponsor leaves the university, a new Authorized Representative will need to be designated within 30 days.