DEPOSITS & REVENUE
Scenario: Your group hosted a ticketed event, your attendance was off the charts, and now you find yourself the proud owners of a big wad of cash.
What next? First, we'd like to congratulate you on your event-planning prowess. Second, you need to get that money to a safe place, ASAP.
Want to learn more? This page is here to help. Scroll down to find out how to make a deposit to your group's university account.
Bonus!
Guidance for
Special Situations:
Deposits: The Ground Rules
Which Process to Use?
Are you depositing donations?
Did you receive a check from a fundraising arrangement with a corporation or local business?
Or did you sell t-shirts or tickets at the door of your event?
Depending on your answer to these questions, the deposit process will be different.
Depositing Donations:
Donations, gifts, or checks received from businesses as part of a "percentage of sales" or "corporate sponsorship" arrangement should be brought to the SOFO office. We'll make sure they're deposited correctly at University Advancement, including issuing the proper tax receipt to the donor.
Sale of goods/services:
Money received from the sale of goods, services, or event tickets should be brought in person to the Cashier's window in Reynolda Hall 107. To prepare this type of deposit, you'll need to count your cash twice, stack the bills and sometimes roll the coins. There's also a form to complete – you'll need one form for cash and one for checks. See below for step-by-step instructions and form downloads.
Either way, when you turn in a deposit, you'll need to be ready to provide your group's "Cost Center" (129 account) or your Agency Fund number. Your advisor, treasurer and/or SBAC rep should be able to help.
Don't Hold Out!
According to University policy, all payments received should be deposited promptly. In practice this means within 1 business day of receiving them.
So, if your event (or other sale) was on a Thursday, you should deposit your cash or checks by 4:30 PM on Friday. If you took in the money over the weekend, 4:30 PM on Monday is your expected target.
If you receive a check in the mail, you're expected to deposit it as soon as possible after it's in your possession.
Going to the Cashier's Window
If your deposit relates to the sale or goods or services:
Download, complete and print one of the forms provided below.
Take the form the deposit to the Cashier's Window in Student Financial Services, Reynolda Hall 107.
The cashier will enter your deposit and provide you with a receipt.
Student Financial Services Hours: 8:30 AM – 4:30 PM, Monday through Friday.
Download General Deposit Form
Download Deposit with Sales Tax Form
Stay Safe
Planning for your personal security and the security of your funds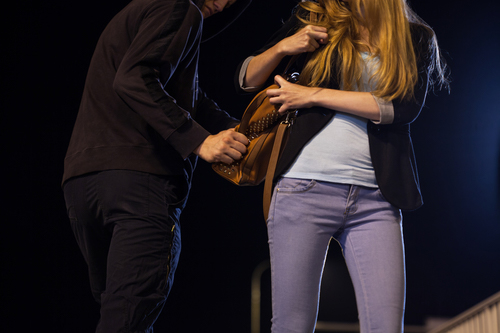 As much as possible, keep the existence of your cash stash on a "need to know" basis among your group members.
Don't broadcast to others that you're transporting a deposit. Be sure to hide the cash from view inside a bag or envelope.
If your event ends late and you have to transport your cash proceeds from a venue, travel in a group. Never carry a large amount of cash alone at night!
Finally, if you hold a sale over a long period of time, you should plan to make frequent deposits rather than holding all cash proceeds until the sale ends.
Step-by-Step to the Cashier's Window
Perfect deposits every time!
Count your cash and checks twice to be sure your deposit totals will be accurate. (For larger amounts, it's a good idea to have two people count.)
Separate cash by type -20s, 10s, 5s, 1s, coins- (and turn the bills to face the same direction, which makes for a happy cashier.)
Put rubber bands around your cash so nothing is lost.
If you have lots of coins, roll them.
Complete one of these deposit forms:
General Deposits | Deposits with Sales Tax
Make a PDF or other copy of your deposit form and file it with your organization records. One day an auditor might have questions, and trust us, it's good to have the answers!
Take your finished deposit to Reynolda Hall 107. The cashier will process your deposit and provide a receipt, which you should then staple or scan to your deposit copy.